Treningsleir fotball på Prades Park utenfor Barcelona
Vi kan desverre ikke tilby denne destinasjonen lenger
Prades Park i søndre Katalonia er FC Barcelonas eget favorittanlegg, kjente for sitt fantastisk naturgress i et stille og rolig miljø. Hit reiser FC Barcelona hvert år på treningsleir med samtlige ungdomslag og damelaget. FC Barcelona legenden Hristo Stoitjkov kjører sin populære sommerfotballskole her. Nå har dere muligheten for en treningsleir på Prades Park eksklusivt hos oss. Prades Park tilbyr to boalternativ, enten 4-sengs bungalower med dusj og toalett, eller en stor bungalow med plass til hele laget. FC Barcelona velger alltid det siste da de vektlegger å dyrke samhørighet i laget. På Prades Park finner du naturgressbaner i absolutt toppklasse, og vi tar imot kun to lag i gangen. Det gir stor fleksibilitet mht treningstider og kvaliteten på grasmattene beholdes. Utenom disse fasilitetene har vi aktiviteter som streetbasket, padlebaner og samlingssteder med store TV apparater.
Sammen skal vi sørge for at deres sportsreise til Barcelona går smertefritt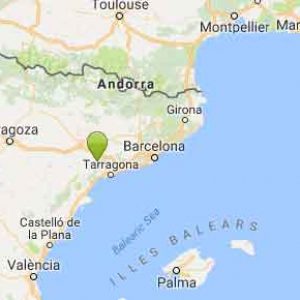 Treningsleir fotball på Prades Park Spania
Avstand gress: 0 m
Overnatting: 4 sengs bungalow med dusj og toalett, eller bungalow som rommer hele laget
Avstand fra Barcelona:  14 mil
Vår mening: Anbefales!
Hva sier kundene:
Prades Park er en spennende nyhet. Anbefales!
Send en uforpliktende forespørsel om treningsleir på Prades Park utenfor Barcelona