Treningsleir ved Middelhavet i Empuriabrava Spania
I Empuriabrava, ved Middelhavet, ca 1,5 time nord for Barcelona, kan vi tilby to fine alternativer. Det første er Castell Blanc (2-3 sengsrom)  – og det andre er Apartments Comte  ´Empuries (leiligheter for 4 personer). Castell Blanc ligger rett ved Empuriabravas imponerende treningskompleks med fire fine grasbaner. Det er bare å gå ut døren, så er du på grasmatten. Hotellets poolområde bruker å være en populær plass mellom treningsøktene. Apartments Comte d´Empuries ligger 2.5 km fra grasbanene og bare 200 meter fra en herlig sandstrand. Vil dere ikke bade i havet er det bare å dyppe seg i de to poolene som anlegget har. Josep og hans personalet kommer til å gjøre alt de kan for at dere skal trives på treningsleir i Spania. Foruten en hel del trivelige aktiviteter ved siden av treningen, finnes det to riktig "höjdare" som anbefales. Besøk på den verdensberømte Salvador Dalis museum og en ligakamp i Barcelona. Ene helgen spiller RCD Espanyol hjemme og andre helgen spiller FC Barcelona på Camp Nou. Vi er også FC Barcelona billettagent, og hjelper dere gjerne med å ordne billetter og transport til Barcelona.
Comte Empuriabrava har et imponerende treningsanlegg ved Middelhavet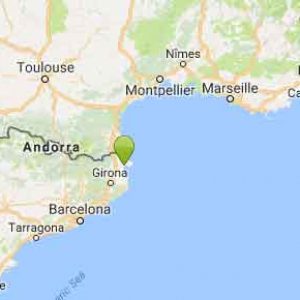 Treningsleir fotball på Empuriabrava
Avstand gress:  20 m – 2,5 km
Overnatting:  Alt 1: 2-3 sengs rom. Alt 2: Leiligheter for 4 personer.
Avstand fra Barcelona:  15 mil, og 6 mil fra Girona.
Vår mening: To meget bra alternativer med veldig gode treningsforhold. En av de beste vi kan tilby i Katalonia, med fine grasmatter tidlig på våren. Og gå ikke glipp av ligakamper med Espanyol eller Barcelona under treningsleiren.
Hva sier kundene:
"Vi stortrivdes på vår treningsleir i Empuriabrava. Bra hotell, bra mat og meget bra fotballbaner. Dere ordnet også billetter til oss for å se FC Barcelona – Real Betis på Nou Camp, en helt fantastisk opplevelse."
– Tommy Erlandsson, Viggbyholms IK
Send en uforpliktende forespørsel om sportsreise til El Comte Empuriabravan Spania